Sometimes I wish I could time travel. There are certain eras that interest me more than others. The war years….the 1940's (a little earlier for folks across "the pond") is one of my favorites. I like the Hollywood version, seeing Abbot and Costello on the silver screen and hearing the Andrew Sisters singing The Boogie Woogie Bugle Boy of Company B on the radio……..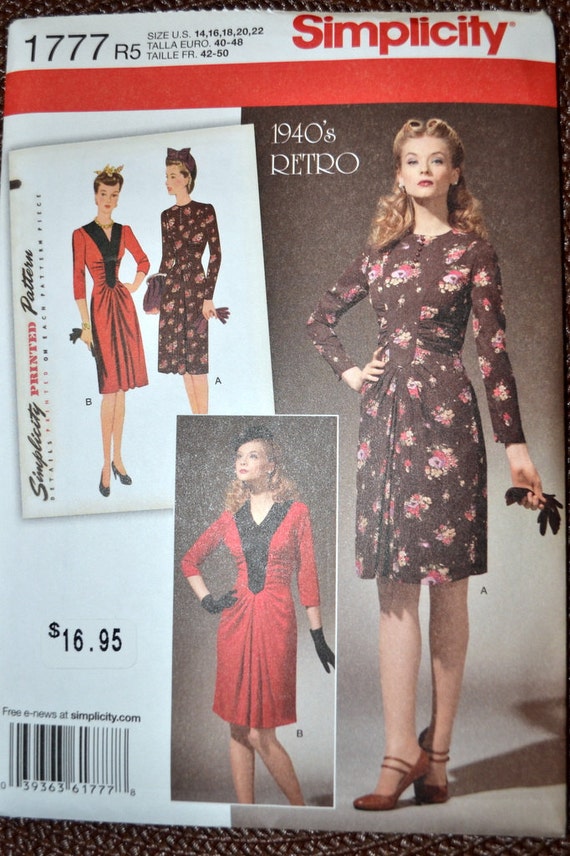 and wearing a dress like Simplicity 1777. Skirts were a bit shorter during the war (rationing) and women were showing some leg.
Silk stockings were in short supply (silk was used for parachutes) so I would have to draw a line down the back of my legs it would look like I was wearing seamed stockings.
Of course I would be sporting a Victory Roll hairdo. The hair styles were pulled away from the face. The Veronica Lake Peek-a-boo hairdo didn't work well with women on the assembly lines. And my shoes would have to be sturdy shoes…something to wear while I walked everywhere….gas rationing, but a little heel wouldn't hurt.
I think I'd wear the alligator leather shoes at the top of the ad.
But, then again, I'd probably be a nurse, maybe an Army nurse.
I wonder if sometime in the future someone will think "oh, the 2010's was my favorite era. I just love the clothes."
One never knows……
Post by Eileen of GoofingOff Sewing……Make Magic One Stitch At a Time